This post is in no way sponsored by Silhouette USA. All DIY and opinions are my own. This post contains affiliate links. For more information visit our Policy Page.
Hi Everyone!

Today I am back with our March Silhouette Creators Challenge! Every month I get together with a group of seriously talented ladies and we all make a craft using our Silhouette Machines. Every time I am amazed at all the beautiful projects they come up with!
For this month's challenge I wanted to try something a little different. So I put away my vinyl and dived head long into my first Silhouette 3D project!
The end result are these adorable 3D olive branches! They are perfect for me because I hate spending tons of money on fake plants and since I always seem to kill the real ones I was in desperate need of a new solution.

I finally found one with the help of my Silhouette machine. Seriously what could be better than inexpensive paper plants that I can't kill?!? Nothing!!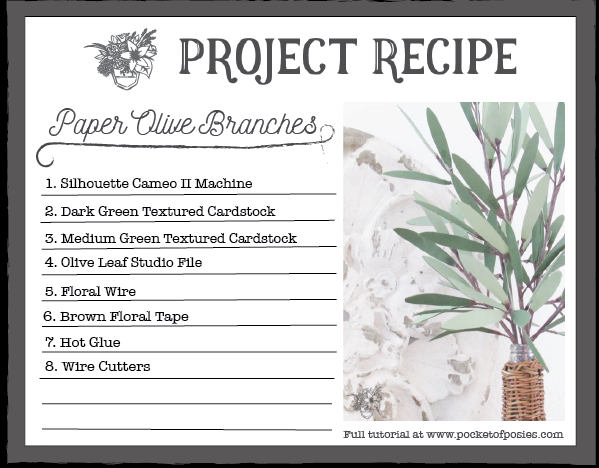 Using my Silhouette Machine and my Olive Leaf Silhouette Studio File I cut 3 sheets of both the dark and medium green cardstock. Then cut the floral wire in thirds using a pair of wire cutters.
To make each leaf I used one dark and one light green leaf. I then placed a small amount of hot glue on one leaf and added my wire then I pressed the other leaf firmly on top. After trial and error I found gluing all the leaves together before moving on to the next step was best.
Starting about 2.5 inches down from the base of my leaf I used the brown floral to create the stem. To apply the floral tape I stretched and wrapped the tape around each wire by rolling it in my fingers moving in an upward direction and finishing around the base of the leaf.
 
When all of my leaves were wrapped I began to assemble my branches. I started with 2-3 leaves at the top and taped them together using the same method as before. Except this time I started and the bottom of the leaf and worked down.
To create variation and interest I varied the amount and distance between leaves. After making a medium branch (4-8 leaves) I added another smaller branch (4-6 leaves). Then I would fill in 1-3 more leaves along the main stem. Then add another small branch.
Once I felt my branch was full enough I started the whole process over again. I found that 2 sheets of leaves made about one branch plus a little extra.
Not only are my new olive branches beautiful but they perfect solution to my plant killing problem!

Thank you for stopping by and checking out all of our fun Silhouette projects! Don't forget to stop by our store! Our Silhouette Studio Olive Leaf File is on sale now!
If you enjoyed this post please share it with your friends! Remember
sharing is caring!