This post contains affiliate links. This means if you click on the link and purchase something, I may receive a small percentage of that sale at no extra cost to you. For more information please visit our Policy Page.
Hi All!  Can you believe we are already at the end of April!?!  This month has just flown by!   The good news is that means it's time for another Create and Share Challenge!  This month Stephanie (Casa Watkins Living) and I decided to challenge the girls to repurpose a hanging fruit basket in a fun and unique way.  Let me tell you, they did an amazing job!  Who knew a fruit basket could be used in so many fun and different ways!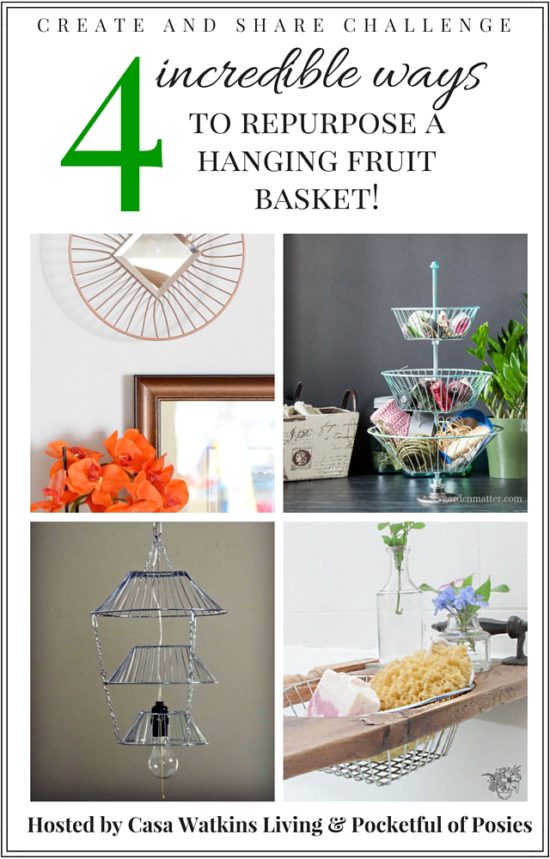 DIY Wire Mirrors : Casa Watkins Living
DIY Bath Caddy : Pocketful of Posies
Repurposed Hanging Storage Basket Stand : Garden Matter
Industrial 3 Tiered Pendant Light : Knock It Off Kim
Thanks to a recent water heater outage at our house I was forced to get back in to taking baths.  The funny part is I completely forgot how much I enjoy them!   So I took my recently rediscovered love for my bath tub and let it inspire me for this month Create and Share Challenge.  I made myself a wonderfully perfect bath caddy using one of my favorite mediums, salvaged wood and of course my hanging fruit basket.
   
1.
Ha
nging Fruit Basket
2. Salvaged Wood Plank
3. Salvaged Stair Spindle
4. 1×1 Square Dowel
5.
Miter Saw
6.
Dremmel
7.
Drill
8.
Verathane
9.
Paint Brush
10.
Bar Clamp/Pole Clamp
11.
Two Vintage Inspired Handles
12.
Jig Saw
I started my project by measuring and cutting the board.  Don't forget to leave a little overhang so that the caddy will be able to safely rest on the outer edge of the tub.  Next I used a pole clamp to reshape my basket into a slightly oblong shape allowing it work within the narrow space of my salvaged board.
Once the basked was reshaped I turned it upside down on the underside of the plank and traced it.  Then I cut a slightly smaller version of the shape using my jig saw.    Finally I used my dremmel with a pointed grinder bit to rout a lip around the edge of the basket opening.  Allow the basket to sit flush with the surface of the board and stay securely in place.
Next it was time to assemble the towel bar.  I started by cutting two 1.5″ sections off of a 1×1 dowel.  Then I aged the wood using a tea and vinegar method.   After determining the exact placement of the towel bar I drilled a pilot hole into each section of wood before screwing the 1 x 1 x 1.5 blocks to each end of the stair spindle and finally into the edge of my bath caddy.
With the assembly of my new bath caddy complete all that was left to do was to protect it from water damage.  For this task I used three coats of matte Verathane and my favorite Cling On Brush.  After everything was all nice and dry I simply added the handles and my caddy was finished!
Now I have the most beautiful bath caddy for those oh so relaxing baths!  I hope all of you have enjoyed this project as much as I will!
Questions?  Comments?  I would love to hear from you in the comment section below!

If you love the look of my DIY Salvaged Wood Bath Caddy but don't have the time to build one, here are a few with options with a similar look and feel.
(Affiliate link)
If you enjoyed this post please share it with your friends!
Remember sharing is caring!