Hi All!
Can you believe it's time for another Create and Share Challenge already?  This time my beautiful friend Stephanie over at Casa Watkins Living challenged us to make a quick and easy candle diy, and that is exactly what I did with my DIY Gone Batty Halloween Candles! This project is amazingly quick easy, and above all else, inexpensive!!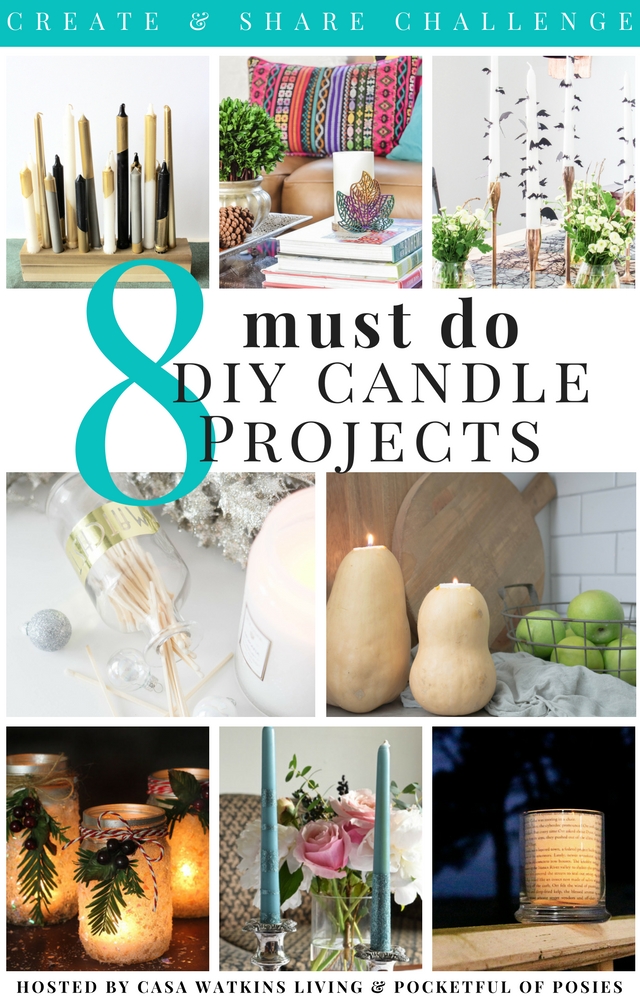 DIY Easy Candelabra and Color Blocked Candles – Craft and Tell
DIY Colorful Wooden Candleholder– Casa Watkins Living
DIY Gone Batty Halloween Candles – Pocketful of Posies
DIY Matchstick Holder – Iris Nacole
DIY Squash Fall Candles – Seeking Lavender Lane
Buffalo Snow Frosted Candle Holders – The Kim Six Fix
DIY Glittered Candles – Flourish and Knot
Book Page Candle Holder – Elizabeth-Joan Designs
As a matter of fact this project is so simple I don't even have a bunch of steps or extra pictures for you!  I had a some paper bats left over from making my Gone Batty Wreath last week and I wanted to make sure they didn't go to waste, so I found another fast and simple way to use them.  However if you don't have left over bats like me or don't have a Silhouette Machine to cut them out these paper bats are a great alternative.
After using a knife to trim the bottoms of my tapers to fit into my candlesticks I used a small dab of hot glue to apply each bat to my candles.  However, you want to make sure to let the glue cool for a few seconds before applying it to the candle.  Otherwise the wax melts and the bats just slide off.  Which can become rather frustrating quickly.  However if you wait till the glue is cooled but still tacky they will stick right on to the wax.
*** This project is intended for decor purposes only.  Once paper bats have been applied the candles should not be burned as paper is very flammable and can become excessively smoky or cause a fire.   Always be aware of candle surroundings before lighting. ***
Aren't these DIY Gone Batty Halloween Candles adorable!  So fast and easy to make you would think they cost a fortune!  But all together this project cost me about $5.50 for 5 candles.   I would say that's a win in the holiday decorating department!!
If you love the look of my DIY Gone Batty Halloween Candles, then you'll love these awesome Halloween Decor Finds!
If you enjoyed this post please share it with your friends!  Remember sharing is caring!