Hi All!
So I know I've mentioned more than a few times now how much I love Fall.  And at the risk of sounding basic, that means I love pumpkin spice too!  There is something about that sweet spicy ness that is just amazing!
That being said, I can usually only handle one pumpkin spice latte from Starbucks each year.  They are just too sweet for me and after finishing one I feel like the grossness on my teeth could support an entire eco system.  Yuck.  Today I finally figured out how to enjoy the perfect pumpkin spice latte that doesn't make my teeth all gross!  The secret, 1/2 the pumpkin spice syrup they use.  On a grande that means only 2 pumps instead of 4.  It has way, way less calories, it still tastes amazing and the best part is, NO FUZZY TEETH!  No there is a fall treat I can get behind!
So why I was enjoying my newly created and totally awesome pumpkin spice late the other day, I started brain storming about a new fall shirt.  One that would be perfect on the weekend paired with an open flannel shirt and booties.  Then it dawned on me, Fall is Pumpkin Spice and Everything Nice!
Pumpkin Spice and Everything Nice Shirt
As it turns out this little saying has apparently been floating around the blogy world for a year or so, so unfortunately it wasn't as original as I hoped.  But today I decided to turn it into a cute little shirt which was perfect for this months Silhouette Creators Pumpkin Challenge!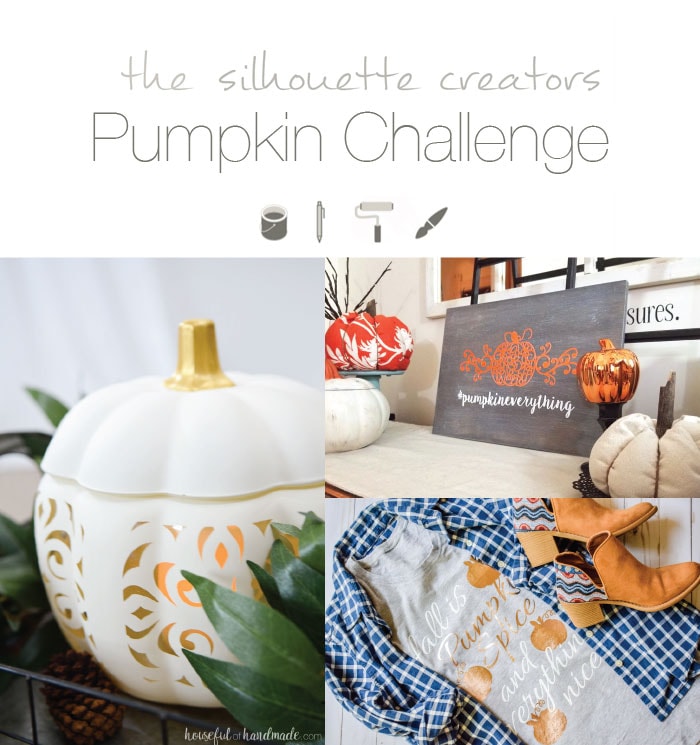 Pumpkin Spice Everything Nice Shirt – Pocket of Posies
Easy Fall Wooden Sign – Michelle James Designs
Filigree Punched Ceramic Pumpkins – Houseful of Handmade
To make this cute little shirt of my mine I grabbed a few supplies including my Silhouette machine and got to work!

Iron
Ironing Board
Parchment Paper
I started out by coming up with a layout I liked in my Silhouette Studio software and in the interest of saving time I found a cute little pumpkin already made in the Silhouette Store.
Next I removed all the overlapping cut lines in my text and through my pumpkins.
Then I sent my design to my Silhouette Machine in two parts, one part cut in white heat transfer vinyl and one cut in the rose gold heat transfer vinyl.
Then I weeded my design using my Exacto Knife, and laid it out on my shirt.  Since some parts of my design were going to over lap I added my bottom layer first.  Then I covered it with the parchment paper and began ironing my design in place.   Once that layer was set I peeled the clear protective layer off and then added the upper layers and ironed those into place using the parchment paper to protect the exposed vinyl.
Once everything was nice and secure I flipped my shirt over and ironed it from the back as well just for a little extra security.  Then my new Pumpkin Spice and Everything Nice Shirt was done!
I have to say I love the way it turned out!  And it looks adorable with my new boots!
Do you love the look of my Style?  Here are a few decor pieces that look just like mine!
(Affiliate Links)
If you enjoyed this post please share it with your friends! Remember sharing is caring!