Hi Everyone! January has to be my favorite month of the year.  It is always ripe with possibilities and promise and not to mention all the clutter clean out that happens!  Another thing that makes January the best is the New Year New Room Challenge hosted by my friend Stephanie over at Casa Watkins Living. Not only does she have any amazing and inspiring style herself but she has also rounded up a group of the most talented ladies I know.
Each year we get together to refresh one room in the house and this year were making it even better, because we are opening the challenge up to you too!  We want to see your latest room makeovers and all the fun steps in between!  All you have to do is add your link to the link up below!  Then check back each Tuesday through the month of January to see our progress!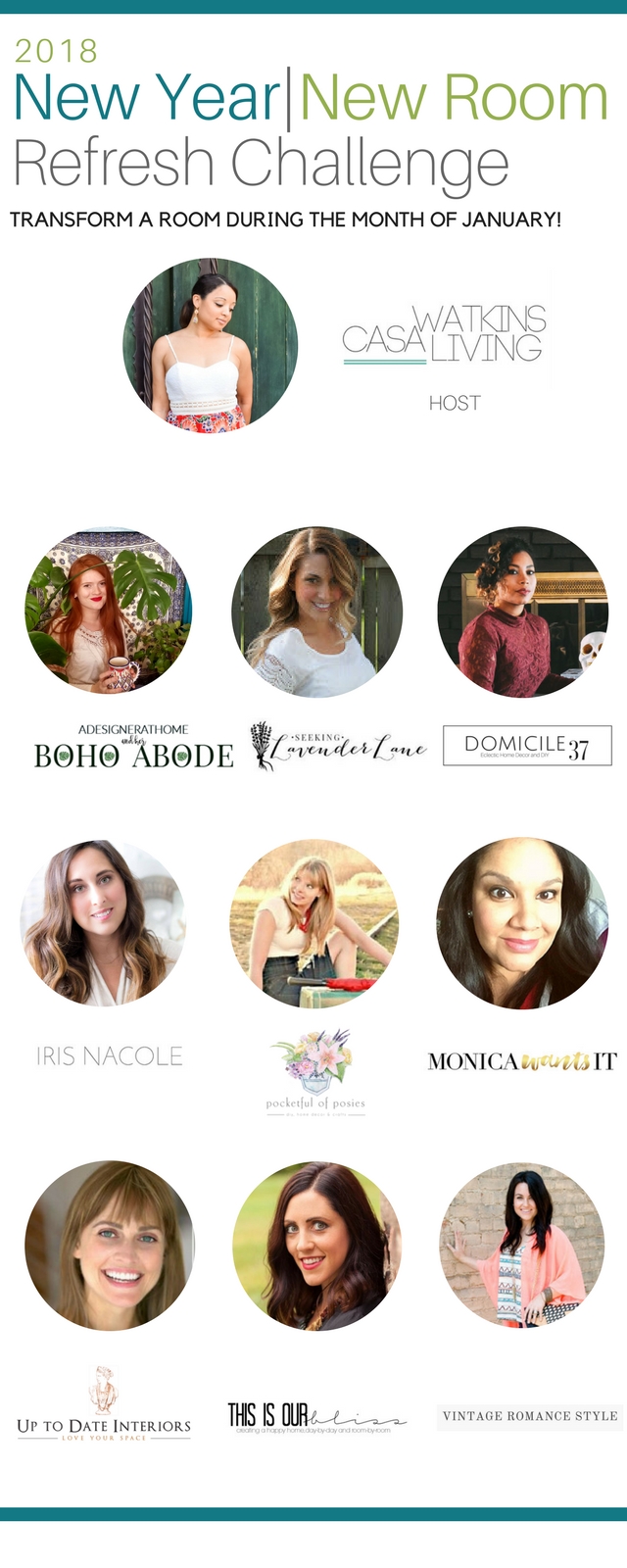 Casa Watkins Living // A Designer At Home // Seeking Lavender Lane // Domicile 37 // Iris Nacole // Pocketful of Posies // Monica Wants It // Up To Date Interiors // This Is Our Bliss // Vintage Romance Style
Now the room I have chosen to make over this year may surprise you.  Why?  Well becuase it is a room that at one time I considered to be the only "done" or more realistically "done-ish" in the house.  My Master Bedroom. Now you may recall a few years ago when I gave my boring old bedroom some personality with some chalk paint and stencils.  It was so popular infact that HGTV used it as part of a round up of the most popular trends of 2014.   So why am I making it over only a few short years later?
Change is always nice – or at least it is to me.  I've loved this bedroom for quite a while now, but I am ready for something new.   New patterns, new textures and a whole new feel.
Completing the look:  Over the last year or so I've already started making a few changes new glass shades over my nightstands a new headboard and rug, but I never really got around to completing the look.  So I've been sort of stuck in limbo.  With a few uncompleted projects and just some lack of continuity my room has become on big unfinished space.  Which has in turn allowed it collect other things from around the house.  So now it's time to pull it all together and clean it all out.
Simplification: I don't know if it's just because I've recently gone back to work or if it's just because I am getting older.  But Simplification is where it's at for me right now.  I am looking for ways to keep the house looking great in between cleanings and making all those cleaning hours as minimal as possible.  The real way to make this happen, LESS STUFF!  The perfect amount of decor + 3-4 items that just need to be put away only equals clutter.  But if I remove a few of those decor pieces suddenly the room becomes way, way less cluttered resulting in a cleaner more relaxing environment.   Hello Beautiful!
From Chippy Layers to Clean Lines –   Another way I am planning on cutting back on the clutter is simply by moving into a more modern style.  As it turns out my husband is much happier in a more modern/minimalistic environment.  So simply trading in some of my chippy cottage style pieces for a few more clean lines is going to drastically impact how busy my space will be.
Design Plan
Project List
Select and Install New Wallpaper from Wallpaper Boulevard
Clean out excess decor and clutter
Find a new simple framed mirror
Add new artwork
Remove or finish any old projects
Layer in a new rug from RugsUSA for comfort and texture
Install new curtains
Find New Bedding
Add an Accent Chair like this beautiful tufted chair from LampsPlus
Repaint nightstands and in Velvet Finishes Handsome Paint and add new hardware
Hide box spring and mattress
Key Elements
Simple Clean Lines
Textured Linens and Soft Elements
Minimal Decor Items
Now, it's your turn! Link up your own room progress below. We would love to see them!
* Please do not link up any posts not related to the New Year New Room Refresh Challenge. *
Thank you all so much for stopping by to see my design plan for my New Year New Room Master Bedroom Refresh!  I can't wait to get everything started!