Hi All!
January is rolling full steam ahead and we are already entering week two of the New Year New Room Challenge! Each year a group of us get together lead by the very talented Stefanie at Casa Watkins Living to pull together a room refresh in one month.  As we roll into our second week of the challenge I've mostly been working on firming up design plans and waiting for sample to arrive in the mail and start pulling this room together.  So I can't say that I have any wow changes to share with you yet, but I did get one item knocked off my todo list this week.  But hey progress is progress right?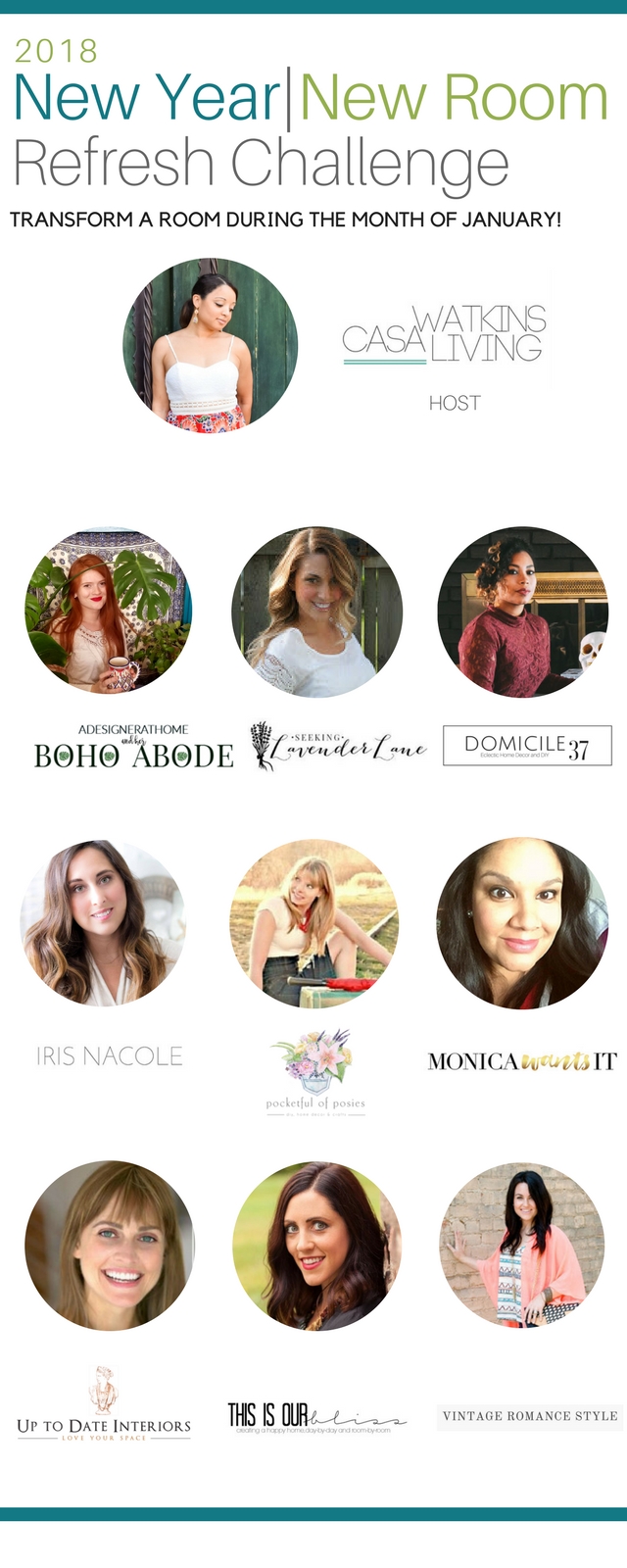 Casa Watkins Living // A Designer At Home // Seeking Lavender Lane // Domicile 37 // Iris Nacole // Pocketful of Posies // Monica Wants It // Up to Date Interiors // This Is Our Bliss // Vintage Romance Style
One of the challenges of switching out our bed earlier this year was we went from a regular bed with a full headboard, footboard, and side rails to just a headboard.  While my room grew by almost a foot when we made this change, (woot! woot!) my new bed just looked unfinished.  Not to mention the ugly mattress and box spring that were now permanently on display.   Now I know I could have just added a bedskirt, but I really just don't like them. Plus our big dog constantly leans on the edge of the bed and the idea of having to take the mattress off everytime I need to wash it, then iron it just equals nooooooooo.  This is supposed to be my year of simplicity!  And none of that sound like a simplification to me!
So This week I finally tackled that problem by building a faux bed frame.  It took me about 4 hours, although I was working by myself and a good amount of that was dry time, and about $55 to make.  The result is awesome!  It's by no means perfect, but it gave my bed the finishing touch it needed.
How To Build A DIY Bed Frame
Now it is important to note that this DIY Faux Bed Frame bears no actual weight from the bed.    Since our new headboard is mounted on the wall, there was no way to attach it to my new DIY Faux Bed Frame.  Plus the bed its self is supported by a mattress stand.  So my new DIY Faux Bed Frame is really more like a pretty wrapper.
2 8′ Common Boards
1 6′ Common Board
4 9″ Wood Legs
Wood Stain (I used Varathane Early American and Weathered Gray)
Varathane Water Based Polly
Drill
Saw
Step Drill
Screws
Pad Sander
220 Grit Sand Paper
Wood Screw Plugs
Tape Measure
Wood Chisel
After cutting my two side boards and playing around with the legs I had purchased I decided that I wanted to cut away about half of the upper portion of my leg so it would slide underneath my box spring.  Allowing my new DIY Faux Bed Frame to sit as close to my actual mattress as possible.  Since this is only a Faux Bed Frame and supports no actual weight from the bed this was fine.  Although I would not recommend if it was supporting weight from the bed.
To create this cut out in the legs,  I first marked the area I wanted to remove with a pencil the cut into the leg using my chop saw.
Once the cut was in place I held the leg up right and using a wood chisel I knocked out the extra piece of wood creating a "shelf" that would neatly slide under the edge of the bed.  Be sure to sand any rough areas so it doesn't cause damage to your mattress/boxspring.
With all my legs cut down I attempted to stage all the pieces together so I could measure the length of the footboard.  Now I will say this was rather tricky to do.  So If you have someone around that can help I definitely recommend it.  It would have saved me quite a bit of time.
Once all of my boards were cut I quickly sanded all of them down including the legs with a 220 grit paper and my pad sander.  This removes any rough spots, placed that might snag on the bed, and allows the stain to be applied more evenly.
To create and match my weathered wood head board I needed to created a weathered wood stain.  To do this I started with a light coat of Varathane's Weathered Gray.  Wiping away the excess very quickly then a coat of Early American, also wiping away the excess very quickly.  This allows both colors to show through with being overly saturated in either direction.
To Assemble my DIY Faux Bed Frame I started by adding two legs to each side piece.  Securing them both front and back.  In the front I used a step drill so I could hide the screw later.
With my two sides put together I finally called in some reinforcements and had my hubby help hold the foot board in place while I drilled two holes on each end trough the front and into the narrow edge of the side.  Once my pdilot hole was in place I used the step drill to deepen and expand the hole so I could once again hide the screw.
Thank you all so much for stopping by to check out my New DIY Faux Bed Frame!  Don't forget to check out everyone's project and you can find all my other posts from New Year New Room's Challenges here.
"Blogger:
WordPress:

"