Hi All!
Another week of January has come and gone and we are one week closer to the reveal of our New Year New Room Challenge hosted by the amazing Stephanie at Casa Watkins Living.  Things are progressing along here nicely.  Although, I am sad to report I still don't have any jaw dropping transformations.
Currently I am waiting for all those fun transformations to arrive in the mail.  But I did manage to get one more item crossed off my list this week.  Which was organization.
New Year New Room Project List
Select and Install New Wallpaper from Wallpaper Boulevard
Clean out excess decor and clutter
Find a new simple framed mirror
Add new artwork
Remove or finish any old projects
Layer in a new rug from RugsUSAfor comfort and texture
Install new curtains
Find New Bedding
Add an Accent Chair like this beautiful tufted chair from LampsPlus
Repaint nightstands and in Velvet Finishes Handsome Paint and add new hardware
Hide box spring and mattress
In my original Design Plan Post one of the problems I mentioned needing to address was removing toys and partially finished projects from our room and today I am happy to announce that I have accomplished just that!
After hosting a fun little birthday party for our munchkin in early December a number of her toys including her large toy box made its way into our room as a temporary cleanup/make more space for guests solution.  The result was just soooo nice!  The living room finally felt open and free from all the clutter and mess.  So naturally I was extremely reluctant to put it all back.  So for the last month or so her toy box has been living behind our bedroom door waiting to be organized.
A quick glance at that terrible mess will tell you that the whole idea of a "Toy Box" was just not working either.  She could never find the toys she wanted resulting in the whole box being emptied on the floor, and even when they were put back into the box everything sort of sat on top instead of in the box.  So not only was it completely non functional, its huge, and it looked terrible.
So what pray tell did I do to fix this terrible mess?  Well it all started with a good clean out.  We went through all of her toys in December and again after Christmas and sorted out 4 boxes of things we gave to needy families.  And the rest got sorted and reorganized into these awesome bins.
Once all of her toys were sorted and organized into their perspective bins I added a piece of scrap wood across the top each bin for added stackability.
This extra layer gave me the a place to add her baskets of art supplies and books.  Getting everything off the floor and up where it can all be easily accessed but not tripped over.
Finally I finished off my organization with some labels using my ridiculously handy wireless Epson Label Maker.
The new labels will help keep everyone in the house on task and keep all of her toys neatly in their bins.
Don't forget to stop by and check out everyone else's progress!  We've all been crazy busy transforming our spaces!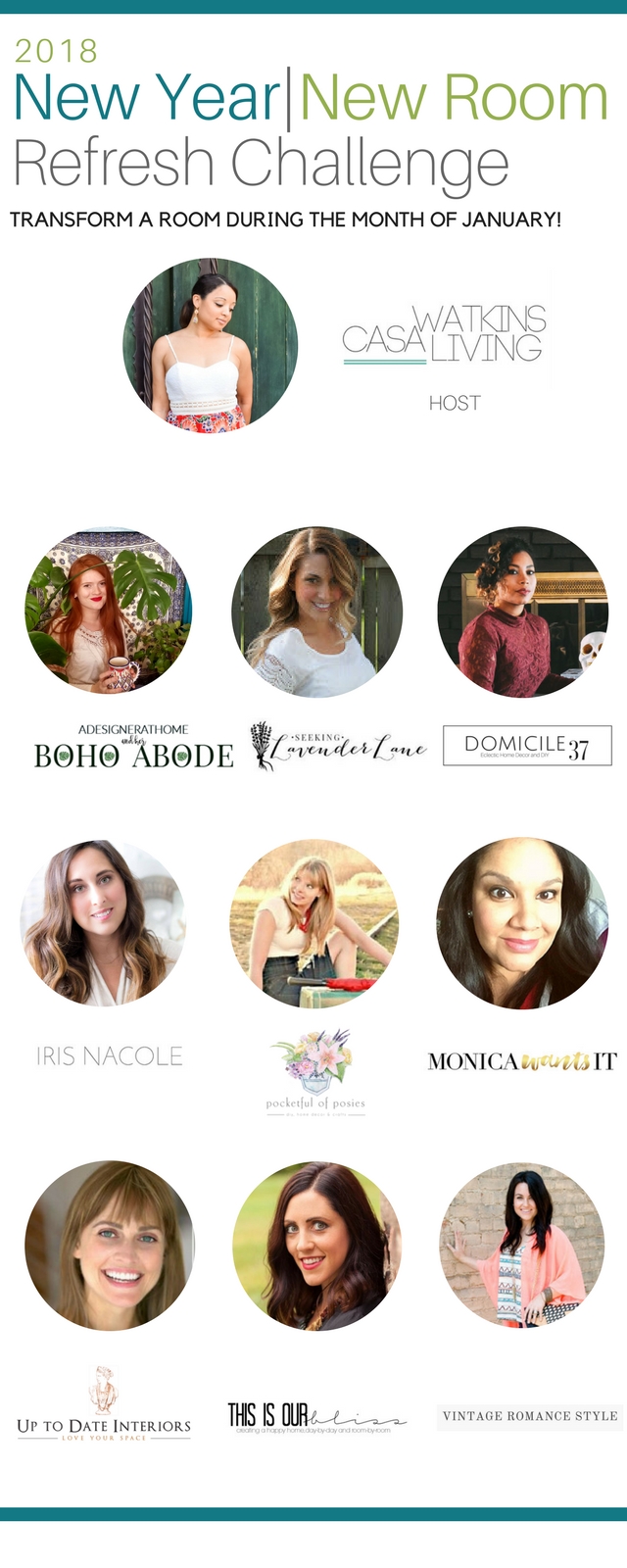 Casa Watkins Living // A Designer At Home // Seeking Lavender Lane // Domicile 37 // Iris Nacole // Pocketful of Posies // Monica Wants It // Up To Date Interiors // This Is Our Bliss // Vintage Romance Style
Do you have a New Year New Room Transformation you would like to share?  Drop your latest post link up here!