Hi All!
We are officially one week closer to our New Year New Room Challenge!  Each year Stephanie over at Casa Watkins Living puts together this amazing challenge for us.  And each year it gets better and better!  In case you missed it, this year I am making over our Master Bedroom.   You can read more about my Design Plan, My Faux Bed Frame, or My Organizing Adventures that have already taken place here.  I'll actually be hard at work all day today accomplishing another large portion of my project so be sure to check my Insta Stories for updates!
This year has been quite the doozy as far as projects go, however I did manage to make quite a bit of progress this week and I even have one new dramatic change to share with you!  (finally, right)!  I know it been a bit slow going around here but due to weather, life, and shipping delays things got a little off track.  Now I'm just crossing my fingers and hoping that everything is going to arrive in time for our big reveal next week!  But I promise this weeks change was worth the wait!
One of the many projects I had left of my todo list was to repaint my night stands.   Now I wish I could tell you I had a true before picture of these nightstands but the truth is I don't.  They were a free Craigslist find from about 4 years ago, before I ever started blogging.  They were 1970's speckled faux veneer ugliness.  And they were my first chalk painting adventure ever.  Now they turned out very nice when I painted them.  However, you could always see the brush strokes and honestly, I was a bit over the chippy verging on Shabby Chic look.  So this week I took them from Shabby Chic ehhhh, to Modern Beauty and all it too was a little bit of paint!
Now I will totally admit that when my color arrived in the mail I was a bit scared.  Don't get me wrong it was lovely but it was going to a drastic change.  I was afraid it would too saturated, but I have to tell you I am completely in love with not only this color, but this paint!  Now I realize that may sound a bit, canned but I promise you it's not.  If someone would give me a rooftop right now, I would shout from it about how much I love Velvet Finishes Paint!
My Handsome colored paint went on buttery smooth and the finished result is just exactly what I wanted.  I did very very little sanding, only to remove a few larger knicks that my night stands have collected in the last 40 years, and basically no prepwork.
I started by first cleaning my nightstands with my home made vinegar cleaner to remove any dust, dirt, and other things that would interfere with my paint.  Once they were dry I sprayed them with Velvet Finishes Ready Spray.  This deglosses the surface allowing the new paint to easily stick.  All you have to do is simply spray it on liberally, wipe off, then wait for it to dry.

Next I simply painted on two and half coats of my Handsome Velvet Finishes Paint.  Yes, really two and a half.  This was only because I was going from a light color to a very dark color and there were a few touch up places that I had to go back over where the original color was peaking through.
Once all of my coats were in place I simply allowed my nightstand to dry overnight then applied one coat of Velvet Finishes commercial grade Protect.  This will help keep my nightstands looking great for years to come!
Just look at the beautiful pop of color!  It defiantly set my heart a flutter and makes me so excited to get this room finished!
Now all I have left to do is add some new hardware! You can bet what that will be!  SIMPLE!  My word, and my theme for 2018!  If it isn't simplified I don't want it my life!!
Don't forget to jump over and check out all of the beautiful New Year New Room Makeovers!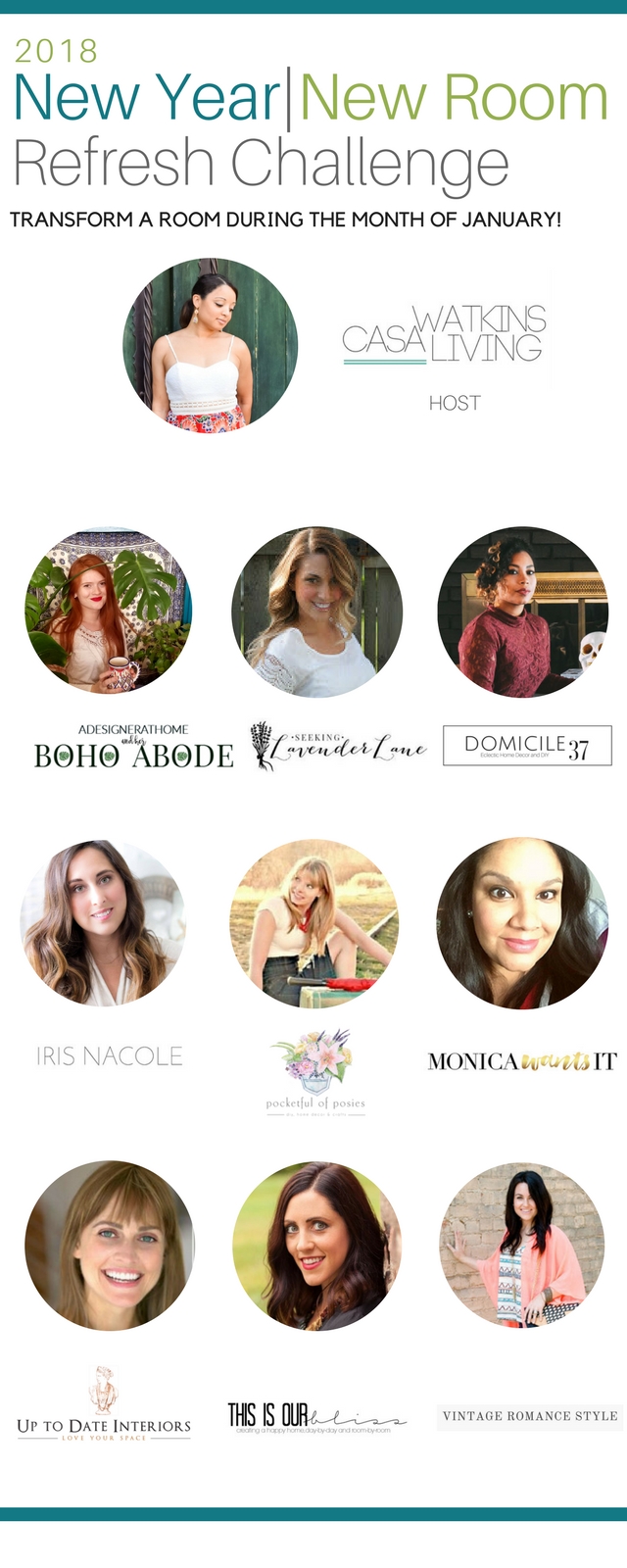 Casa Watkins Living // A Designer At Home // Seeking Lavender Lane // Domicile 37 // Iris Nacole // Pocketful of Posies // Monica Wants It // Up To Date Interiors // This Is Our Bliss // Vintage Romance Style
Do you have a New Year New Room Makeover to share?  We'd love to see it!  Simply link it up in the box below or share it on your favorite Social Media account using #NewYearNewRoomChallange !