Hi All!
So here we are at the end of the New Year New Room Challenge, and I know you were expecting a big reveal this week. Unfortunately, due to shipping delays and the wintery storms that affected most of the United States this month, we've decided to dive a little deeper into our room makeovers with one more DIY Project this week.   Don't worry though, I promise I will have a full room reveal to share with you next week!
The DIY post I am sharing with you this week had a huge, I mean seriously huge, impact on my space.  It completely changed everything! bump, bump baaaaaaa….
It was……
……
Wallpaper!!!!!
Now I've been obsessed with wallpapering a room for some time now.  And this Watercolor Buffalo Check from Wallpaper Boulevard was everything I wanted it to be.  Graphic and modern with a touch of softness.  I even have a whole section on my favorite Day Dreaming Home Pinterest Board dedicated to Wallpaper.   I've also had the extreme joy of spending days peeling wallpaper before.  And trust me it isn't as fun as it sounds.  So I wanted a way to have my cake and eat it too.  So I found this really simple hack that will turn literally ANY Wallpaper into Removable Wallpaper.  It was easy to install and it will be even easier to take down when the time comes!
Turn Any Wallpaper into Removable Wallpaper
It kind of makes you giddy doesn't it?  The idea of having a beautifully wallpapered room with out the consequence of someday having to peel it all off!   It makes me giddy!  Especially since we rent our house!
To create this perfectly, perfect Removable Wallpaper feature wall I used need a few supplies from around the house.  
To turn my regular wallpaper into removable wallpaper, I started by applying long strips of 2″ Masking Tape floor to ceiling about the same width as my wallpaper roll.  2 strips per width of wallpaper.  Then I also framed out any areas that could need some extra glue, along the edge of the ceiling, windows and trim.   I chose to use Masking Tape which has a higher adhesion rating over Painters Tape only because I didn't want the blue tape peeking through my white wallpaper.  I used one 60 yard roll for my accent wall.
Next I grabbed my roll of wallpaper and let it unroll on the floor as I gently pulled up.  Using a level I positioned my paper then I applied about 2″ of hot glue on the tape on one side.
**It's important to apply the glue to the tape not the paper. ** The couple of seconds of cooling that occurs while you situate your paper is key to it being repositionable and ultimately removable.  This way if you have to reposition the paper, or when it comes time to remove it the glue stick to the tape.  Causing less damage to the paper, less residue and allows it to pull away easier.
Once I felt like my corner was in the right place, i.e straight, I started adding more glue along the top edge and then down to the same position on the other side.  I alternated adding glue on either side a few inches at a time smoothing the paper as I went to ensure that is was even and flat.  Once I reached the bottom of my wall I used my long level and my Utility Knife to cut the paper.  Once the entire sheet was secured I started the whole process over for the next width.
Pretty cool right?  Now when it comes time to moves I simply gently pull the paper along the edges to remove it from the tape.  The glue will mostly stick to the tape and as long as you're careful you can even reuse the paper later!  WOOT WOOT for Removable Wallpaper!  So much beauty, no commitment.   ** Although it is important to note, once the paper is glued,  you'll never be able to install it in the traditional manner.  As there will be bits of glue on the back.**
If the masking tape seems like it doesn't want to come off the wall simply use a blowdryer to heat the tape slightly as your remove it.
Doesn't it look great? I love how modern and graphic the buffalo check is!  And I especially love that it is REMOVABLE WALLPAPER!  It has completely changed up my whole space!
Have you been following along with our New Year New Room Challenge?  Don't forget to check in on everyone's progress!  These rooms are looking fabulous!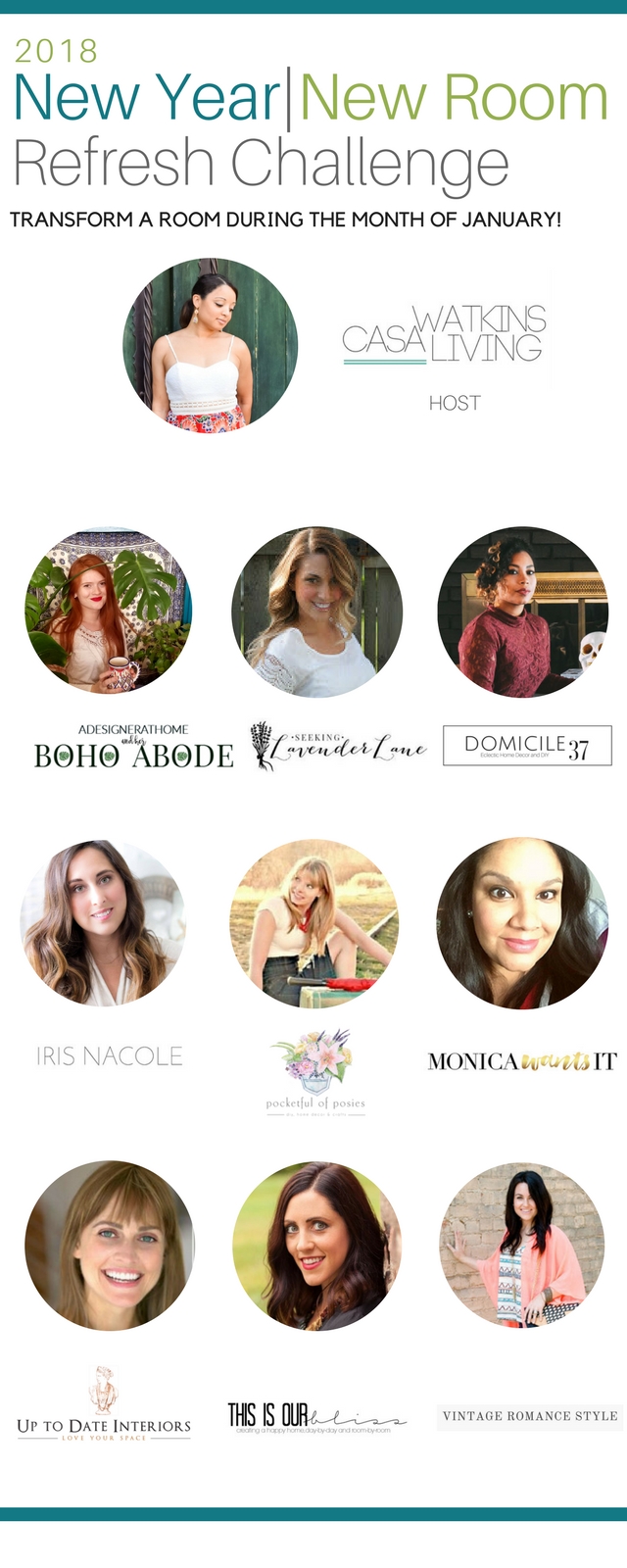 Casa Watkins Living // A Designer At Home // Seeking Lavender Lane // Domicile 37 // Iris Nacole // Pocketful Of Posies // Monica Wants It // Up To Date Interiors // This Is Our Bliss // Vintage Romance Style
Be sure to link up your own room refreshes below! Need an extra week like some of us? We will have this link up next week too! Stay tuned for more room reveals next week!
Please remember to ONLY link up posts related to the New Year, New Room Refresh Challenge below.