Hi All! Well it's officially February and after five weeks of intense design plans, shipping challenges, wallpaper hanging, mind changes, and overall life craziness our New Year New Room Challenge Reveal is finally here! But before we get into what it looks like now I think it's always important to take a look back at where it all started.  Way, way back!

When we first moved into our current house about 3 years ago this is what our master looked like.  Pretty boring and overall a whole room of BLAND. So I decided to give it a little make over with some faux brick and a whole lot of paint.

And it was beautiful!  But somewhere along the way through subtle room changes and a new bed it all became a little disjointed.  It still looked nice but it was defiantly missing the flow it once had.  Not to mention I was ready for a little change.  That is where this years New Room New Year Challenge came in. Each year my sweet friend Stephanie at Casa Watkins Living puts together this amazing challenge for us, and this year was no different!  She always works her butt off and is one of the nicest people to boot.  None of this would be possible without her help and organization skills.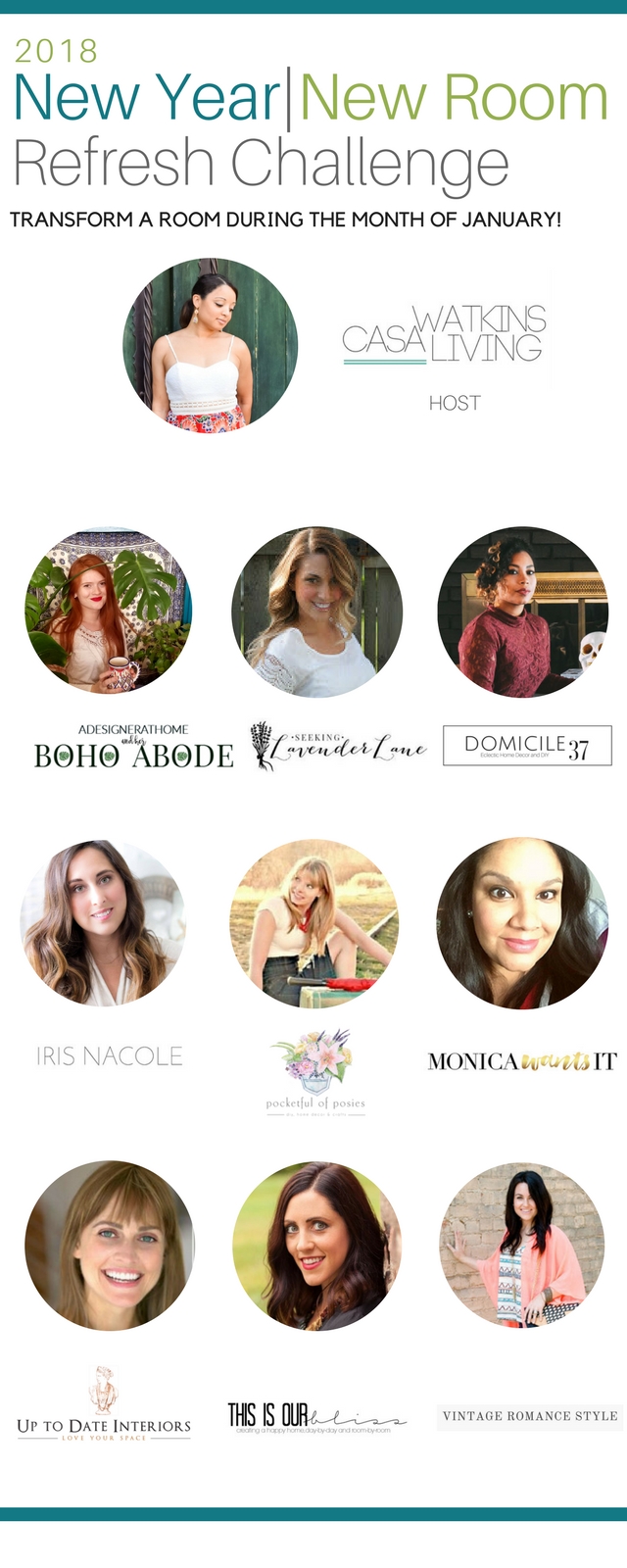 Casa Watkins Living // A Designer At Home // Seeking Lavender Lane // Domicile 37 // Iris Nacole // Pocketful Of Posies // Monica Wants It // Up To Date Interiors // This Is Our Bliss // Vintage Romance Style
  So with all of that being said, are you ready to take a look at this years New Room New Year Challenge Master Bedroom Refresh Reveal???
The difference is pretty striking right?  
I think overall my style has really evolved a lot in the last year.  I am really embracing my word for 2018, Simplicity.  I've been focusing on less.  Less stuff, less decor, more open space, more time spent with my sweet little family instead of cleaning.   Its a change I am really thriving in.

I've taken on a bolder, cleaner more modern look.  The colors are a bit more saturated but still balance out with plenty of bright whites for lot of contrast.

And of course a mix of my favorite vintage pieces, like this copper clock from my Dad.

And these A-M-A-Z-I-N-G recycled glass beads I scored on Etsy for just $10!

Can we all just stop and take a moment to appreciate how stunning this watercolor buffalo check wallpaper is from Wallpaper Boulevard?  It seriously made the whole room.

Not to mention the pops of teal from these beautiful Smithhonig tassels and Velvet Finishes Handsome Paint.
Which gave my free 1970's craigslist nightstands a fun modern update.  That wouldn't have been complete with out this stunning liberty hardware.

Of course the room wouldn't be complete with out a few new accessories from Lampsplus like this beautiful basket weave table lamp.

The addition of a new cozy accent chair truly made this space the ultimate relaxation spot.  Perfect for reading at the end of a long day.  (My husband's favorite new addition!)

There are so many wonderful new textures and accents!  Ohh the love!

All in all my Master Bedroom Refresh is a little modern, a little, vintage, a little bohemian, and a whole lot of simply beautiful! Don't forget to check out all the other New Year New Room Challenge posts!  And you can even link up your room reveal too!